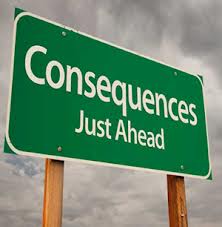 Unintended Consequences
The implementation of the Qualified Mortgage guidelines (aka QM loans) is now two months away and set to begin in January of 2014. According to the CFPB (Consumer Financial Protection Bureau) here is a list of what loan originators must take into account when evaluating a borrower and their ability to repay:
All pretty standard and nothing new, right? Right. Every creditor asks the same four questions when considering whether or not to extend credit. Those four questions are; What do your make?, What do your owe?, What do you have?, and What does your credit look like? This is true whether you are purchasing a home, buying a car, or filling out a credit card application. The answers to those four questions tell the creditor how likely they are to be paid back by you and paid back on time.
With the elimination of risky mortgages, you know, the ones with pre-payment penalties, negative amortization, and $0 down payment, the ability to repay has been answered because the guidelines stated above have always been in place. They exist in the domain called "fully-documented" loans and they represent the best credit risk. Meaning, if you have stable income, a decent credit score, a little money in the bank, and a reasonable amount of consumer debt you are a worthy credit risk. The point is that if these factors are in place you always were a worthy credit risk and the QM guidelines are only going to make it tougher for you to get a loan. And if the ridiculous down payment requirement of 30% holds up then the overwhelming majority of people out there will not come close to qualifying.
What does this mean for you right now?  Well, if you are buyer this is a great time to get off the fence and get serious about home ownership.  Why?  Because rates have settled back down to the high 3% to low 4% range for the moment, home price increases have slowed a bit, and you have the QM guidelines right around the corner which could have the unintended consequence of eliminating you from the home ownership conversation all together. With interest rates forecasted to rise this next two months could represent a great window of opportunity that may not be around for awhile.
If you'd like to learn more you can contact me by clicking on my name.
858-863-0264