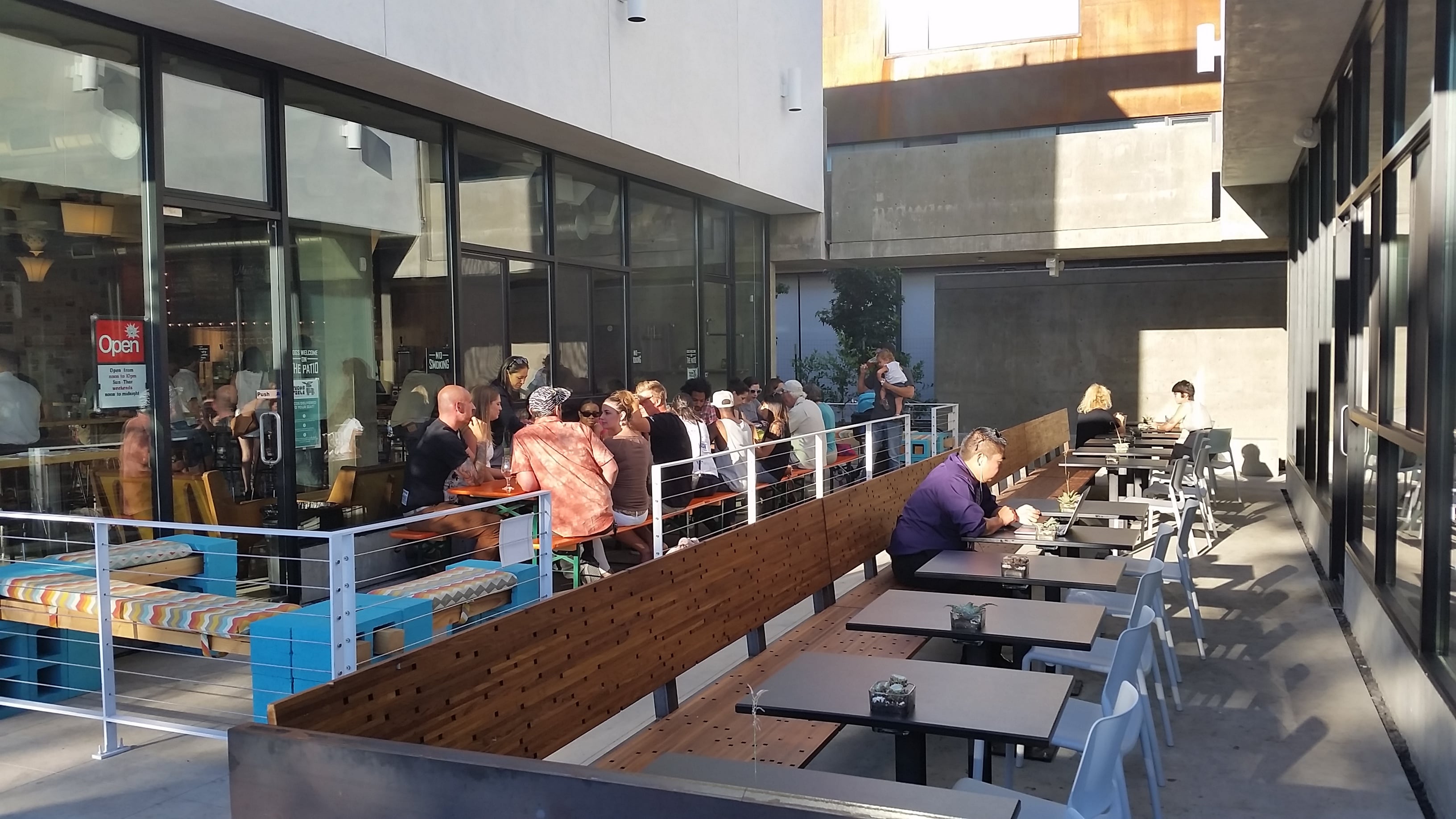 North Park's Corner of Cuisine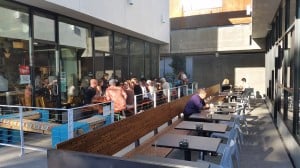 My son and I have been keeping our eye on the new developments at the corner of 30tb and Upas in North Park for over a year now. He, for the construction trucks constantly going in and out, and myself for the anticipation of new eateries going into an already stacked area of goodness. The community of North Park has more now to offer than ever before, and if you haven't spent much time south of University, now is the time. The breakdown, provided by Sarah's blog, will guide you through the many options.
While the entire span of 30th Street from Alchemy in South Park to Jayne's Gastropub in University Heights offers an unbelievable array of quality local choices, my little corner at 30th and Upas features an impressive mix of restaurants and bars within a few hundred yards of each other.
Alexander's on 30th, a classic modern Italian restaurant with a casual elegance and great salads, baked pastas, and dense pizzas for dinner. Their new Summer Sundays brunch-lunch menu includes fennel sausage hash with Italian roasted potatoes and $1 micheladas. The kids like drawing with crayons on the paper tablecloths, and we all enjoy sitting on the patio area outside.
Where: 3391 30th Street, San Diego, CA 92104
Right across 30th Street from Alexander's is the new kid on the block, Bazinga Eatery where my 9-year-old flipped over the $5 bacon bowl appetizer filled with mac 'n' cheese. Yes, the bowl is made entirely of bacon. My 11-year-old enjoyed her mac 'n' cheese ball appetizer and I enjoyed a healthier option, a huge portion of grilled veggies (yellow squash, bell peppers, portabellas topped with parmesan cheese and a Mediterranean dressing, one of six healthy salads on the menu. If you're like me and unable to decide when ordering, start with the entrée that features a sampler of five kinds of mac 'n' cheese (my favorite was the French Onion Mac).
Where: 3382 30th Street, San Diego, CA 92104
Next to Bazinga is Zensei Sushi, one of the first restaurants to open in the historic 101 year old Lynhurst building and a pioneer in the restaurant boom in this intersection. Try the 30th & Upas roll with spicy tuna, rice, avocado, a secret sauce and more. We order it every time.
Where: 3396 30th St, San Diego, CA 92104
Turn the corner to the Upas side of the Lynhurst for Cardamom Café, a cozy and delicious breakfast and lunch go-to for the whole community. Fresh baked bread, pastries and my favorite – croissants that are the real deal – are made daily. I see owner-chef Joanne baking in the window early mornings on my walks before anything is open and dream about eating a Monte Cristo under a colorful umbrella in the outside sidewalk seating.
Where: 2977 Upas St, San Diego, CA 92104 Cross to the west side of 30th Street and there are three places in a row that qualify for "date night" in our house (if we leave the kids at home).
The Bluefoot Bar & Lounge, a fun, unpretentious neighborhood hangout with central pool table, sidewalk smoking patio, spacious back room plus stiff drinks and craft beer. It's the sort of place where everybody knows your name (or you're at least guaranteed to see a neighbor nightly).
Where: 3404 30th Street, San Diego, CA 92104
Next door to Bluefoot is a favorite date night dining spot, The Smoking Goat. Truly wonderful French and American fare including decadent duck fat truffle fries, braised beef ribs and a small but solid selection of very local craft beer and French wine. The interior decor and outside sidewalk seating make a visit fresh, fun and upscale-funky.
Where: 3408 30th Street, San Diego, CA 92104
Another grown-up favorite is Mosaic Wine Bar, proving that 30th Street isn't all about local craft beer, although they do have six local beers on tap and 15 bottles they rotate often. Love the loungey, comfortable living room vibe of this place with open air seating in the front and private nooks, coffee tables and couches with pillows in the back. In addition to an international menu of small plates such as grilled lamb chop couscous, crispy calamari and parmesan crusted artichoke, Mosaic offers a huge selection of wine and happy hour specials, and a bottomless mimosa/sangria/Prosecco brunch on the weekends. Mosaic is 21 and up.
Where: 3422 30th St., San Diego, CA 92104
Next to Mosaic are two small restaurants, Veg-n-Out, a "just the right speed" vegetarian and vegan cafe (love their falafel burger) and Lefty's Chicago Pizzeria. Lefty's has a huge local following of ex-Chicagoans as well as born-and-bred San Diegans who discovered the delicious decadence of Chicago-style deep dish. Our family favorites are the heart-stopping Meaty Pie (sausage, pepperoni, meatball, and Italian beef) and South Sider (Italian beef, green pepper, onion, and hot giardiniera). But Lefty's offers more than three types of pizza (thin crust and "stuffed" options are available). Their hamburgers and dogs are generous and tasty and they slow-roast beef daily for Italian beef sandwiches on a roll with provolone and sweet peppers. Best of all, you can sit across the street at the new Modern Times Tasting Room and order Lefty's' to go and consume at Modern Times with your beer.
Across from Lefty's, the east side of 30th (at Upas) features a cool new complex called The North Parker. This mixed-use loft, office and retail space added an architectural panache to our loveable but creaky old 'hood.
Modern Times Beer is one of San Diego's award winning local breweries, and the North Park Flavordome tasting room is light and eclectic. Sure the ceiling is covered with lampshades, but the seating is clean and uncluttered and there are 6-8 Modern Times beers on tap daily. The tasting room includes outdoor side patio seating, and customers are welcome to bring in food from the area restaurants to eat at the bar or tables inside or out.
In fact, imbibers can take three steps from the Modern Times patio over to the Influx Café patio and order salads (from kale to bleu) and sandwiches (from tofu to turkey) and pastries from this newly opened San Diego coffee house. If you're not drinking beer, Influx has a wide array of drip and espresso organic coffee drinks and teas to go with your meal.
Next to Influx in The North Parker is the soon-to-be-opened Underbelly, a ramen noodle house that originally opened in Little Italy. The first location is so successful with the blend of soup and, what else?, craft beer, that the restaurateurs decided to open a second Underbelly (so named for the delicious pork included in its signature ramen dish that includes soft boiled egg, char-siu belly, applewood smoked bacon and kurobuta sausage).
Around the corner,back on Upas & 30th, is Tacos Perla, the new street taco darling of the intersection. The menu is simple and offers San Diego's signature dish, tacos on handmade corn tortillas. While these "street" tacos are priced more like Rodeo Drive than Main Street, they are delicious. I had the Ocho (braised-then-grilled octopus with poblano, pesto and cheese) and the Del Mar (wild caught Mexican shrimp, marinated in ginger, chilies, achiote with jack cheese and avocado) for $4.95 each, while my son had traditional carne asada ($3.95). Neither of us opted to add on crickets for .75ȼ although I did go for the chicharrones and loved the six salsa selections. I had my tacos with a can of Modern Times beer as is de rigeur for the corner.
If walkability to a diverse array of restaurants is important to you and you would like to become a part of the North Park community, let me know how I can help you. Nothing is more fun for me than helping people find homes in neighborhoods they'll enjoy.
Curious what for sale for now in the area? Shoot me an email!
Carmen@GreenMeansGrow.com