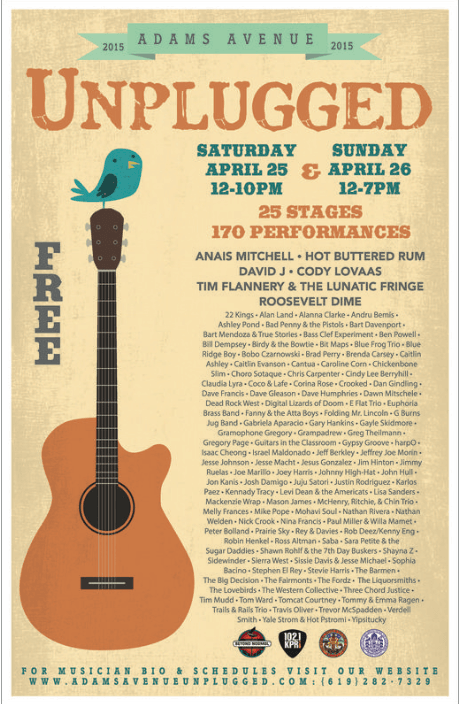 Adams Ave Unplugged 2015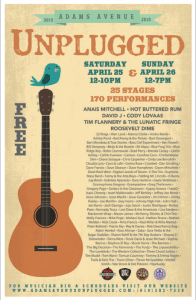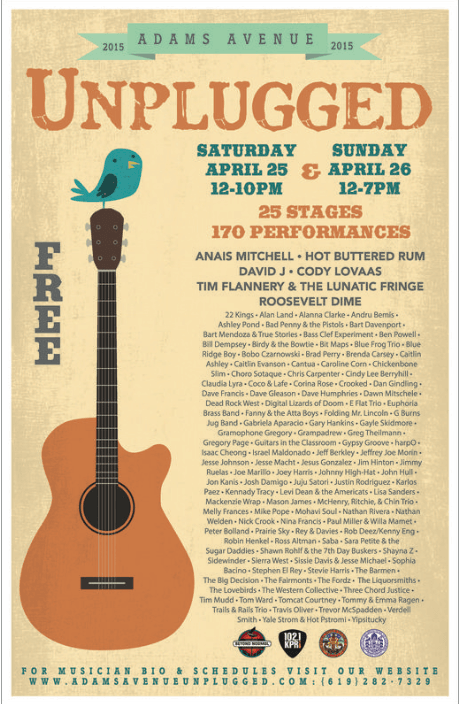 For those of you who are live music lovers, I've got the perfect weekend activity for you! According the the Adams Ave Businesses website, "Adams Avenue Unplugged takes place the weekend of April 25 and 26, along a two-mile stretch of Adams Avenue, from University Heights on the West through Normal Heights, and into parts of Kensington to the East. The event will feature 150 live musical performances staged inside restaurants, bars, coffee houses and galleries lining the neighborhood and on four community stages evenly spread out throughout the district. Being able to pair the Avenue's unique dining and drinking establishments, each with their own special ambiances and selections, with free musical performances, makes Adams Avenue the place to be on the last weekend of April. The AABA hopes to treat musical aficionados and foodies to the rich neighborhood culture.
Music is scheduled from 12pm to 10pm on Saturday, April 25, and 12pm to 7pm on Sunday, April 26. Some artists will be playing multiple sets allowing attendees more opportunity to catch their favorite performers.
Adams Avenue Unplugged is free and open to the general public.
The free trolley service will be provided on Adams Avenue during the festival to subsidize the walking required to traverse the expansive event footprint. Parking is limited to residential neighborhood streets and can get quite congested. MTS bus routes 2 & 11 will service the neighborhoods. Wear comfortable walking shoes and plan on getting your exercise by exploring all the avenue has to offer."
And while you are exploring the surrounding neighborhoods, how much do you want to bet you'll come across an Open House or two? Well if you are in the market, or just curious, I encourage you to pop in to one and take a look! Of course, be prepared for the agent hosting the Open House to breathe down your neck a bit and do what they can to get your information and flood you with unwelcome emails. This is par for the course when wandering into Open Houses and you are unarmed with an agent of your own. So what's the best defense in this situation? Let them know you are already working with someone. Heck, let them know you are working with me, even if we haven't met yet. Unsure about it? That's ok. People who are not currently in the market can still feel secure knowing they have an agent, for when the time arises.
Wouldn't it feel good knowing you have someone to represent you when the time comes? Reach out to me, I can't wait to hear form you!