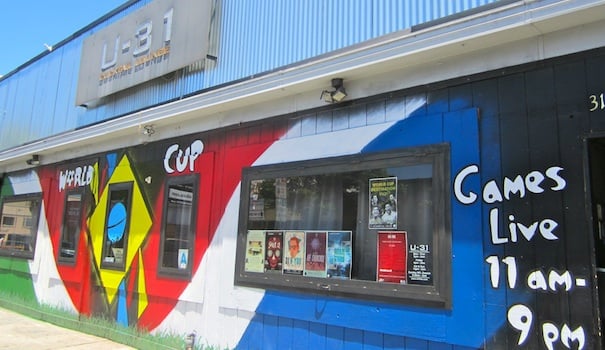 World Cup North Park – Part Deux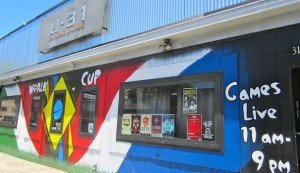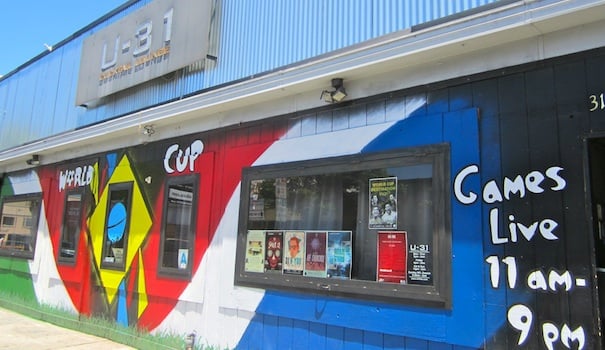 This weekend brought us the second US game so far in World Cup 2014 and despite the tie, (sorry folks who taped the game and haven't see it yet,) the crowds were as enthusiastic as if it had been a win. The neighborhoods of North Park, South Park, and Normal Heights were filled to the brim with fans. If you'll remember, I blogged about North Park's attempt this year at hosting the largest viewing party in the nation.
I should have known that searching for place to watch the game, only an hour before start time, would have my family driving around from location to location  just to find a standing room atmosphere in every one of our usual go-to's. The owner of The Abbey, in South Park, told us the place had been packed since 10:30 in the morning. I decided to share our experience as way to offer some advice to those out there who enjoy the games even more when watching with fellow bar patrons. The camaraderie you experience when high-fiving everyone within reach is totally worth the sloshing beer on your shoes from cheers-ing your new pals without name.
Because North Park is full of places showing games, all with great drinks and menus, I thought I'd share this break down on a few specific places to help you decide where to watch the next game.
According to Kevin Smead, over at Uptown News, "If you're serious about soccer and intensely passionate about the game itself, then Bluefoot might be the place for you. Since 2006, they've been showing all the World Cup games live and have no intention of stopping.
"When the Cup is in Russia in 2018, we'll see who's still open for all the games," co-owner Adam Cook said. "We will be, for sure."
Bluefoot's serious passion for soccer is highly evident, with both owners active soccer players and the bar sponsoring five local teams.
"We were the first people doing this, and it just spread by word of mouth," Cook said. Packed during games, Bluefoot's the place to be if you're a hardcore soccer fan. The bar is also running a generous happy hour, from opening at 11 a.m., all the way until 7:30 p.m.
If soccer isn't necessarily your thing, but you're just excited because the World Cup is a wild sporting event in which face painting is not only okay but encouraged, then True North is your destination. With 27 TVs — and one 80-incher — you'll see every player's cleats pierce the grass and all the small details you'll be arguing about for weeks to come.
Oh, and you won't be alone.
"For the first game, it was standing room only in here," manager J Klein said. "It was like a football Sunday."
During the games, the bar will be running various drink specials, as well as offering their full food menu.
"We're totally behind promoting North Park as the premiere and only destination to watch the World Cup," Klein said.
For those looking for something a little different in the beverage department, Coin-Op Game Room is celebrating the World Cup via a wide assortment of themed cocktails and snacks. For games with more popular teams, the bar will offer cocktails featuring an alcohol associated with its respective country. For Britain, they'll have drinks featuring Gin. For France, cocktails will feature calvados, a sweet and nutty apple brandy. In addition to mescal and tequila, a taco truck will outside the bar for all of Mexico's games.
Perhaps the most interesting of the themed cocktails, however, are the ones featuring cachaça, an alcohol made from distilled sugar cane. Hugely popular in Brazil, Coin-Op currently has four different cocktails they're serving throughout the cup featuring cachaça. Though they're $8.50 normally, during Brazil's games, the cachaça drinks are only $6.
Finally, if all of these sound fun, but going to any of them means you'd be going alone for one reason or another, Hess Brewing Company is your answer. Hess is all-ages, pet-friendly, and you're also welcome to bring outside food. They do have an in-house, sushi team, though, so maybe check that out. Plus, if you're jazzed about the game but the people you're with just can't get into it, there's a shelf full of board games to keep them entertained while you root for your favorite team. With some mighty tasty beer and an undeniably cool tasting room setup, everybody wins."
Just remember to get there early! And if takes having a mimosa for breakfast, do it for the US of A!
–Carmen Harris, World Cup Watcher and North Park Neighborhood Insider