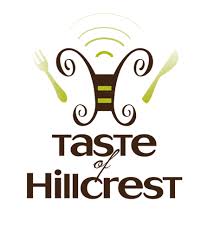 Taste of Hillcrest
One of my favorite neighborhoods, Hillcrest, is hosting it's 14th annual "Taste of Hillcrest," event this Saturday, April 19th. For four glorious hours, 12pm-4pm, enjoy a bite from over 40 of it's neighborhood eateries. The folks over at Uptown News, suggested a few of their favorites to try this weekend:
Rockfire Grill just opened in a Hillcrest location that has been pretty much a revolving door when it comes to dining establishments. If new co-owner Raj Syal has anything to do with it, that phenomenon will end right here. Syal travels daily from Orange County to bring Hillcrest a unique combination of Middle Eastern cooking techniques and Western-style food, born from his European and Southeast Asian culinary training. His flatbreads are baked to order in his stone deck oven and are either stuffed, used for pizzas, sandwiches or even burgers. The meats and veggies are skewered and then hung upside down in his 900-degree rockfire grill, where they are smoked, baked and grilled all at once, making them extra flavorful, juicy and tender. Syal, who can't help but exude his passion for food, calls his offerings "fresh, affordable, simple and satisfying."
East Village Asian Diner: With an interior that mirrors what a '50s diner might look like if set in a Japanese comic book series — plush red booth seating surrounded by stark white walls and action figures — East Village Asian Diner has plenty of originality to offer Hillcrest. Opening on University Avenue just this year in the place of Pink Noodle, the diner's original location opened several years ago in Encinitas, fusing Korean cooking with the off-color creativity of restaurateur and professionally trained chef Daniel Bohlen. While East Village's mainstay is its California spin on the traditional Korean "Monk's Stone Pot," it will serve another one of its well-liked menu items, "Omma's beef": sliced, marinated ribeye liberated by a small army of vegetables. The location underwent a hefty remodel after Pink Noodle departed, which, among other alterations, allowed East Village the ability to serve a large number of beers on tap. So if you're in the market for something to quench your thirst after trying Omma's cooking, take a seat at the bar and enjoy the building's newfound alcohol-pumping technology.
Wine Steals – Urban Hillcrest was the first (opening in 2003) of what is now a three-store operation. It is the most casual of the trio and arguably the most fun. Hillcrest manager Cat Evans recently introduced even more fun, with Trivia Tuesdays and their new "Jamaica Me Crazy" Sundays from 11 a.m. to 5 p.m., which includes tableside bellini, rum, poinsettia or mango madness punchbowls for up to eight people along with Jamaican-influenced pizzas, salads, wraps and more. They will be introducing "Taste" attendees to Jamaica Me Crazy with samples of their One Love Red Bean Dip with a live reggae band on site.
For more information on the event, including the entire list of participants, parking, and the trolley, click here.
Tickets Price: $30 in advance (to purchase, click here.) $35 day of event.
See you there!