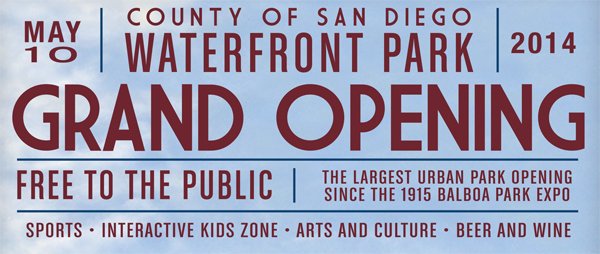 San Diego Waterfront Park Now Open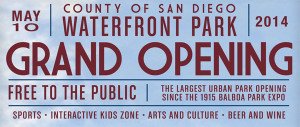 City News Service SAN DIEGO – The long-awaited San Diego waterfront park at the County Administration Center opened for business Saturday with a ribbon-cutting ceremony featuring music, dancing and fireworks.
The county's main offices were constructed in the 1930s. A waterfront park was included in the plans, but it was never built. However, the idea eventually resurfaced and county officials broke ground on the $49.4 million project in September 2012.
"This park is the new showpiece of the North Embarcadero," Supervisor Greg Cox said. "The county's dream for a park encircling our County Administration Building has finally come true, and it will become a destination
in itself for residents and visitors alike."
The 12-acre park includes an 830-foot long fountain that runs nearly the length of the park and has 31 jets that shoot water 14 feet into the air and into a shallow splash area for kids; three differently themed gardens, two of which feature drought-tolerant plants; a large playground; and an expansive lawn that encompasses two former parking lots.
Parking for the county building was moved into a recently constructed underground garage.
"We are reclaiming the waterfront," San Diego Mayor Kevin Faulconer said. "It was a parking space, now it's a people space."
Mary Roosevelt, daughter-in-law of President Franklin D. Roosevelt, who dedicated the County Administration Center in 1938, and widow of James Roosevelt, who re-dedicated it in 1988, also addressed the crowd.
"Both FDR and Jim had very strong connections to San Diego," she said. "They would have loved this occasion, seeing this wonderful park come to fruition."
The mid-morning festivities also included musical and dance performances, a classic car show, food trucks, a farmers' market and games.
"The idea of a special gathering spot on our downtown bayfront has been dreamed about for decades," Board of Supervisors Chairwoman Dianne Jacob said. "Now we have the good fortune to deliver on that dream. We have created a world class landmark that will be enjoyed by residents and visitors for generations."
The park is open from 6 a.m. to 10 p.m. daily and spots can be reserved for weddings, company events and other parties."
If you are interested in becoming a downtown resident so this great park can be steps away from your home, send me an email and we'll talk about your options!