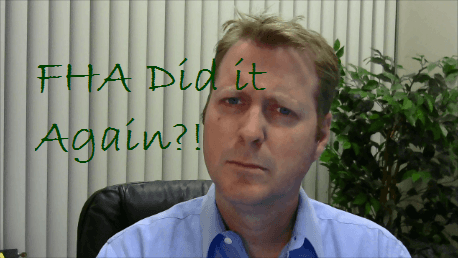 New Rule Saves FHA Borrowers Hundreds of $
Last week I wrote about the recent announcement that FHA would be lowering the MI premiums, it's simply icing on the cake to hear the most recent news.  (click here to see that video / article)  Now, there is new rule that saves FHA borrowers Hundreds of $s more!
What you may not know about FHA loans is that they used to have this little hiccup that cost borrowers hundreds or even thousands of dollars when they tried to get rid of the loan.  While it was never referred to as a Pre-Payment Penalty, it technically was one.  When you tried to payoff an FHA loan, they would charge you interest through that entire month.  So it was common to minimize the effect by timing payoffs for the end of the month.  But if you missed that timing…. you paid.   Essentially if you paid off your loan on the 2nd of the month, replacing it with a new loan, you paid interest on the new loan and the old loan through the entire month.  Now most folks may not have noticed this because it was rolled into your closing costs, but it was there.
When the recent finance rules came down and regulated Pre-Payment Penalties this FHA practice came under scrutiny.  To their credit, HUD has reflected on this and removed the requirement to pay that extra amount.  This is a huge savings for borrowers and a relief of the hassles of trying to time a loan  .. or else..
There are many other tricks to know about FHA loans.  If you'd like to find out how they effect you as a buyer, or someone who has an FHA loan, simply click here and send me a quick email.  I'll help you find ways to take advantage of these new rules.