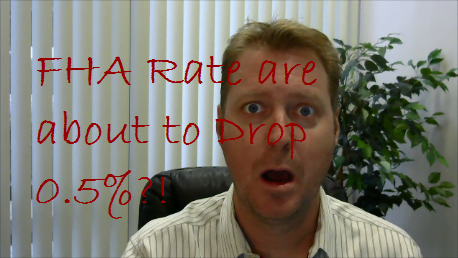 FHA Rates Are About To Drop 0.5%?!
Amazing news about FHA loans.  FHA rates are about to drop 0.5% at the end of this month.  But it might not be in the way you're thinking…
What we'ere talking about is a drop in the associated FHA Mortgage Insurance.  This is currently 1.35% annually.  But on the 26th of this month, that rate will drop to .85%.  This means that new loans will be much less expensive on a monthly basis.  For example, on a $300,000 loan the new MI will save you $120/month.  That means you either have a monthly savings for the same home, or you could potentially afford more home.
More good news is that you can take advantage of this if you are buying a home, or if you already have an FHA loan.  We offer a reduced documentation process that lets you refinance without an appraisal or even income qualification if you already have an FHA loan.
To get a customized calculation on your potential savings, or to get pre-approved to buy a home with this new loan, simply click here to email me and get the help you want.