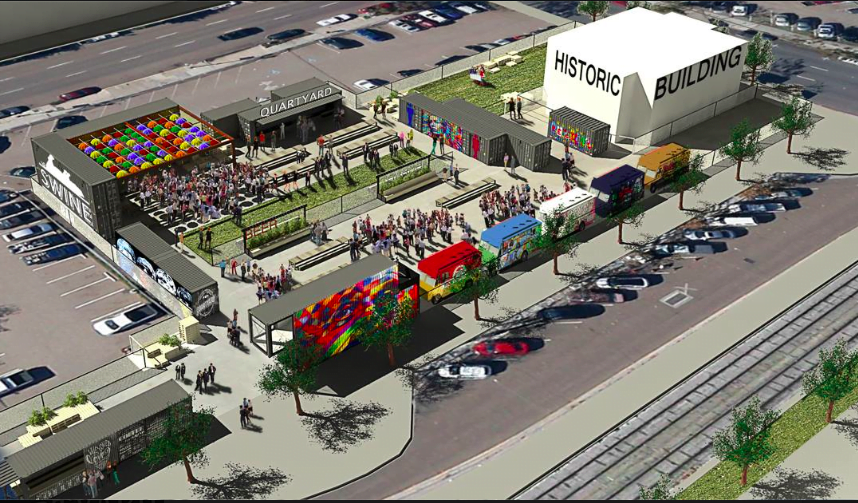 The Quartyard: A Pop Up Urban Park in the East Village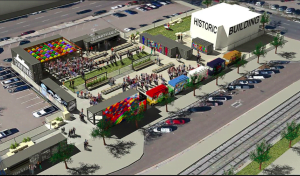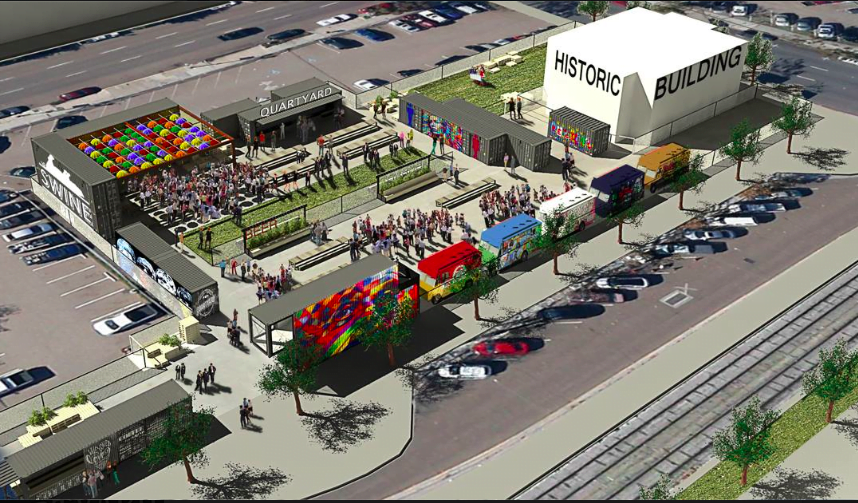 Thanks to the forward thinking ideas of a couple graduate students, the corner of Park and Market in downtown's East Village has been transformed. This pop-up urban park has everything from coffee, exotic sausage, craft beer, free wi-fi, and even a dog park.
According to San Diego Eater, "The Quartyard, a dynamic new public space in the East Village bordered by retrofitted shipping containers housing a coffeehouse, a sausage-centric eatery and a bar, is scheduled to grand open in a big way this Saturday night with a sold-out event and more than 1,000 people in attendance.
Good thing there's plenty of room in the urban park, which spans 23,000-square-feet at the corner of Park and Market and includes a 5,000-square-foot dog park, where owners can kick back with a beer while their pets play.
And there is plenty of beer; S&M, a satellite of University Heights' S&M Sausage and Meat by Scott Slater of Slater's 50/50, has ten taps and food offerings that revolve around their housemade sausages, a rotating list that includes lamb merguez with cucumber and tzatziki and a bratwurst topped with bacon-apple sauerkraut and whole grain mustard. For now, the all-day menu is available during lunch and dinner hours, but S&M may expand into breakfast.
The Quartyard Bar is run by Best Beverage Catering, which operates the food and beverage programs at countless venues around town and at large festivals, including Coachella. The bar will be equipped to make standard cocktails and houses 20 taps, 18 for mostly local beer and two for cocktails, a mule and a margarita, and serves a short menu of salads and sandwiches.
And up and running since early February is a second outpost for Mission Hills' Meshuggah Shack Coffee Shop, which opens at 6 a.m. daily to fuel the neighborhood. All food and drink vendors are housed in state-approved shipping containers, custom transformed by Basile Studio.
Under the shade of a high canopy, a 500-square-foot event stage will function as a lounge when not in use and there are communal tables throughout the entire space, which is wifi-enabled.
Even more food is available from food trucks, curated by Curbside Eats, which will be parked at lunch and dinner on the perimeter of the park.
And in a few weeks, a Thursday night market of arts and crafts vendors will launch; there will also be outdoor movie nights, concerts and special events.
The group behind this ambitious and ground-breaking project is RAD LAB, who funded the Quartyard with help from a Kickstarter campaign and whose offices are housed in, what else, a shipping container on edge of the property.
RAD LAB COO David Lowenstein said that the temporary park has a lease with the city for 18 months, with the possibility of an extension if a permanent project has not been readied by then. If the collective does need to pull up stakes and move to another location, the group has been scouting alternate sites in San Diego; the partnership has also fielded interest from other cities."
The grand opening this past weekend was a sold out success, and now it's time for the general public to enjoy this unique and diverse city space.