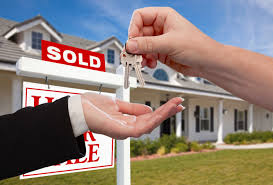 Scariest Situations for Home Buyers & Sellers – Part 4
Scariest Situations for Home Buyers & Sellers – Part 4
So, where are we?  We have an accepted offer, the home inspection went well, we successfully negotiated a Request for Repairs, the appraisal supported the purchase price, the buyer has removed all contingencies and now it is an unconditional offer.  The finish line is in sight.  But, there are still a few more "scary" steps ahead of you.  For one, the lender needs to get the final loan documents to the escrow company so the buyer can meet with a Notary to sign everything.  Now that part can be a little intimidating and nerve-racking for a buyer.  That is why it is very important for the loan officer to review the Estimated Settlement Statement or Loan Estimate with the buyer(s) BEFORE they sit down with the Notary.  This ensures a less-stressful, and less-scary, loan signing.  Next is for the buyers to conduct the Final Walkthrough of the home, contractually this is to be done 5 days before the close of escrow.  This is important to confirm that the home is in relatively the same condition as when the offer was accepted and no damage was done when the seller moved out.  Now the seller is also supposed to remove all personal items from the home, but often some things are left behind, like yard products (fertilizers, bug sprays, etc.)  And while the seller is required to ask permission of the buyer to leave anything at the property, when this happens, there is not much recourse for the buyer to force the seller to come back and remove any items, short of taking them to court.
But, luckily, this it is uncommon that there are any major problems that come up at this juncture.  Once we close escrow, the house is yours!  And we're partying!!!
Please reach out to me.
I look forward to helping you!
Craig Sutliff
Real Estate & Mortgage Consultant
The GreenHouse Group
Email: Craig@GreenMeansGrow.com
Cell:  619-857-4954