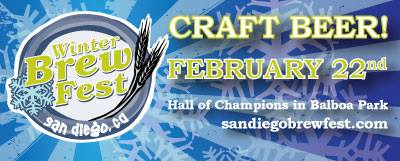 San Diego Brew Fest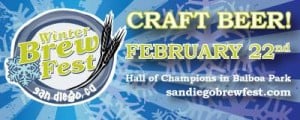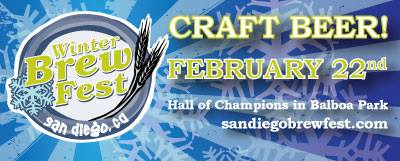 Now is the time to get your tickets to the 2014 Brew Fest in San Diego. The San Diego Winter Brew Fest will celebrate craft beverages from around California and beyond and features; live local music, food, and other vendors.  This event, held on Saturday, February 22nd, 2014, benefits Outdoor Outreach and the San Diego Mountain Bike Association (SDMBA). Outdoor Outreach is about empowering at-risk and underprivileged youth to make positive, lasting changes in their lives through comprehensive outdoor programming.  SDMBA is a nonprofit, volunteer organization representing the interests of off-road cyclists and other non-motorized trail users in San Diego County. SDMBA's goal is to unite mountain bike riders, retailers and manufacturers to speak with a coordinated and responsible voice in dealing with other trail users, land managers and policy makers.
The history on this event: RightOn Productions, LLC was created by a group of friends after an excursion to Bonnaroo in 2004 where they worked the beer tent for Flying Dog Brewery. Ideas flowed, and the opportunity to create an intimate (2,000 attendee)  craft beer festival was acted upon. The first Denver Brew Fest by RightOn Productions was created in a parking lot near Coors Field. Since then, the Summer and the Winter Brew fests have developed into an annual Denver tradition and now the celebrations are being expanded to San Diego, CA.
Live music by Headshine and Soda Pants.
Location: The San Diego Hall of Champions in Balboa Park
2131 Pan American Plaza
San Diego, CA 92101
Google Map
Get your tickets HERE
Enjoy!