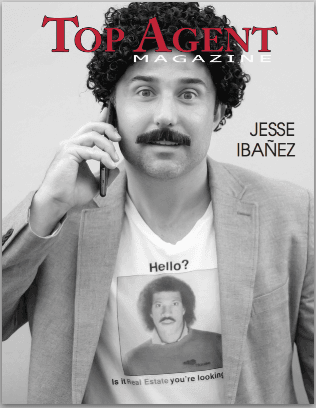 "Hello. Is It Real Estate You're Looking For?" Random Musings In Becoming A Cover Model For Top Agent Magazine.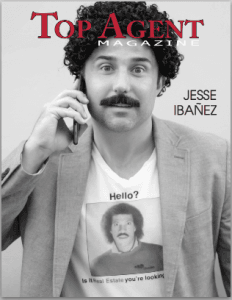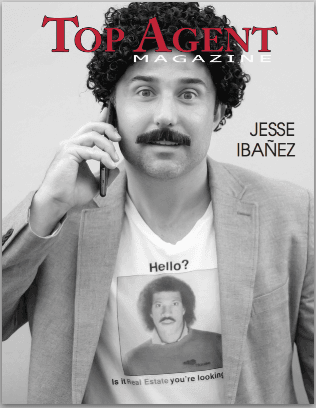 I want to come clean: When it comes to receiving recognition, I don't know how to do it.  And if I ever catch it flowing my way, I'm quicker to sidestep & deflect it with humor than to accept it.  I'm sure I get that from my dad.  In fact, when it came to receiving a call from Top Agent Magazine, offering me the cover of their November 2015 San Diego Edition, I scrambled to think back on who I had pranked recently and if I was primed for this very creative "get back-sies" from a scorned buddy.
For starters, I don't take myself too seriously.  But when it comes to the business of helping people, of practicing my craft, of furthering my mastery in the domain of helping folks get into and out of homes … I'm as serious as death at a birthday party.
Because when it comes to what we do, its never been about me.  Its always been about: the people we help, the home we help them get into/out of, and the deal we get them.  We always referred to that as our portfolio.  And if anything, when good stuff happens, Jeremy and I have been quick to make it about US. Despite the humble accolade, despite the honor of being on the cover and sharing that rare air with the best-of-the-best, I just couldn't bring myself to do "it."  And by "it," I mean … I couldn't send over my headshot, and a picture of my current listings for sale, and do the whole okie dokey dance.  It just wouldn't be congruent with who we are and what got us here in the first place.  And, I didn't want to miss the opportunity by being stubborn either.  So I agreed BUT only if I could make the story about the very thing that got me to even be considered for the cover in the first place.  I made it about The Team (anddd a little trademark humor sprinkled in there as well).
Jesse Ibañez Top Agent Magazine Cover November 2015
So in the link, my hope is that you will find two things: One of which is completely ridiculous, and one of which I truly hope you appreciate.
The ridiculous part is the fact that, at the end of the day, there had to be a cover with my name on it.  So, I decided to do the most reasonable thing that any person in my position would do: I dressed up like Lionel Richie, had a killer t-shirt made, and let 'er fly.
The part I hope you appreciate is also the one thing which I believe makes us unique, endears us to the folks we are lucky enough to help, who got us here, and personifies that when you "Go Green .. you get the whole damn team" … and that's my fellow GreenTeam peeps having some fun with the camera.  I hope you have as much fun receiving, and finding our true authentic selves within it, as we did making it.
Cheers!
Jesse Ibanez, lover of all things .. including 80's pop legends
And here's the link: Jesse Ibañez Top Agent Magazine Cover November 2015