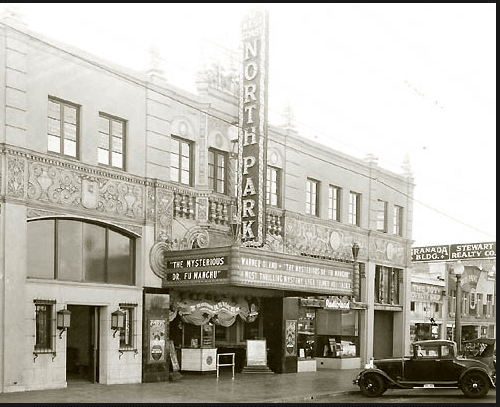 Historical Walking Tours Through North Park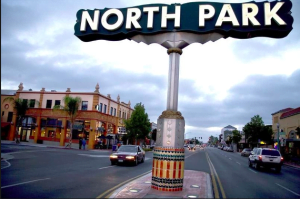 For history buffs, many San Diegans look to Old Town for a walk back in time. But did you know that the hip neighborhood of North Park has history dating back to street cars? According to an article in Uptown News, "If you want to trace the story of San Diego to its roots, North Park is the outdoor classroom for you. But you have to get out of your car and walk. That is the only way to capture the architectural details of master builders, find long-forgotten street names stamped in the sidewalk, and observe the consequences of good restoration versus bad remodeling.
A brass plaque embedded in the sidewalk at 28th and Upas streets features the following quote from North Park's premier historian, the late Donald Covington: "North Park is a vast open-air, living museum of historic houses and neighborhoods. Those neighborhoods have miraculously preserved not only the whole gamut of early 20th Century architectural styles, but also patterns of traditional ways of living and relating to neighbors and to the natural environment."
Just like in a museum, exploration on your own is fine, but you learn more with a knowledgeable guide. The North Park Historical Society (NPHS) has been conducting docent-guided walking tours in the community since the all-volunteer nonprofit organization formed in 2008. Our goal is to instill a commitment to preservation within every tour participant. Organization members have researched and developed historic walking tours and serve as docents, sharing stories and historical pictures of the community's unique commercial buildings and residential neighborhoods. Tours include the commercial core centered on 30th Street and University Avenue, the Burlingame Historic District south of Switzer Canyon, and the North Park Dryden Historic District on 28th Street and Pershing Avenue from Upas to Landis streets.
In addition, NPHS Vice President George Franck has developed tours focused on the streetcar suburbs around Hamilton Street and University Avenue, as well as the neighborhood centered on the Lynhurst Building at Upas and 30th streets. He is inspired by the residential neighborhoods that are preserved in nearly their original, early 20th century state, and the commercial districts that reflect the variety of four major periods of growth throughout the 20th century.
NPHS President Steve Hon developed a tour of the Morley Field Recreational Area that explains the origins of the municipal pool, tennis courts and softball fields, among other facilities. Tour attendees also learn the stories of accomplished, community-minded individuals like Bud Kearns, Maureen Connolly, Joe Schloss and John Morley, and why they have places in North Park's backyard named after them. NPHS Board Member Michael Thornhill always adds interest when he leads tours dressed in his authentic streetcar motorman outfit.
NPHS regularly organizes public docent-led tours and offers private tours for groups of six or more. They recently broadened their outreach by partnering with other organizations to create joint tour experiences. In 2014, NPHS conducted tours in partnership with Save Our Heritage Organisation, North Park Main Street, the San Diego History Center, and the San Diego Community College Continuing Education Emeritus Program for senior adults. During this year alone, NPHS guided 400 people on more than 20 walking tours in five different historic areas of North Park. In the future, NPHS will continue to offer popular docent-led tours that highlight the historic character of North Park neighborhoods. They look forward to partnering with other organizations and adding new tours.
So get out of your car, walk with NPHS, and share their love for history, architecture, and the fascinating story of San Diego. Watch their website at NorthParkHistory.org for updates, or contact them at info@northparkhistory.org with any questions."
If you are interested in joining a group for a walking tour of North Park, contact me: Carmen@GreenMeansGrow.com
–Carmen Harris, Real Estate Consultant and Lover of Old Neighborhoods