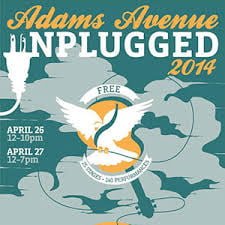 Adams Avenue Street Fair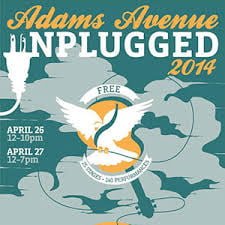 Adams Avenue Unplugged, formerly known as Adams Avenue Roots Festival, takes place this weekend, April 26th and 27th along a 2 mile stretch of Adams Avenue. Beginning in the University Heights sections of Adams Ave, going through Normal Heights and ending on the east side of Kensington, music is scheduled from 12 noon to 10pm on Saturday, and 12pm-8pm on Sunday.
The festival is FREE to the public and includes a line up of 150 live musical performances. For the entire schedule, click here. There is the option to buy reserved seating for the headliners, which include: Chris Hillman & Herb Pedersen, Peter Case, Willie Watson, and Jonny Fritz. For more info on reserved seating, click here.
Our friends at the Union Tribune had this to say about this year's Adams Avenue Unplugged, "Former San Diegan Chris Hillman, a 1991 Rock and Roll Hall of Fame inductee as a member of The Byrds, will headline the 2014 edition of Adams Avenue Unplugged. The free, two-day festival will take place April 26 and 27.
Hillman, who grew up in North County and used to own a home in Bird Rock, is also a former member of such pioneering country-rock groups as The Flying Burrito Brothers and Manassas. He'll perform at Adams Avenue Unplugged with longtime musical collaborator Herb Pedersen, with whom Hillman co-founded the Desert Rose Band.
The festival will feature about 150 performances on four outdoor community stages and in an array of restaurants, galleries, cafes and bars on, and adjacent to, Adams Avenue. Other headlining artists this year will include former Plimsouls' leader Peter Case, former Old Crow Medicine Show singer-guitarist Willie Watson, country troubadour Johnny Fritz, Canadian alt-county duo The Sumner Brothers, old-time country band Shaggy Manes and the Americana group The Good Luck Thrift Store Outfit.
They join a lineup that includes a diverse assortment of some of San Diego's finest musical talent, including Cindy Lee Berryhill, Joey Harris, Tomcat Courtney, Robin Henkel, Jeff Berkley, Sara Petite and Chris Carpenter.
The bill also includes former San Diego troubadour Tom Brosseau, jazz sax mainstay Joe Marillo, Bayou Brothers, Yale Strom & Hot Pstromi, Euphoria Brass Band, David Blackburn Robin Adler, Patty Hall & Greg Campbell, The Lacemakers, Podunk Nowhere, Liz & Kent's Every Brothers Tribute, Joe Rathburn, Dave Humphries, Christopher Dale, Jim Hinton, Alan Land, Billy Watson & His Submarine Trio, Jeffrey Joe Morin, Charlie Imes, Coco & Lafe, Ross Altman, Trails and Rails, John Bosley, Jon Kanis, Ben Powell and the possibly Scrabble-inspired Zzymzzy Quartet.
More acts will be announced and some artists will play multiple sets. Performances will take place from noon to 10 p.m. on April 26 and from noon to 7 p.m. on April 27.
This year will mark the third edition of Adams Avenue Unplugged, which in 2012 replaced the 18-year-old Adams Avenue Roots Festival. The new festival is underwritten by the nonprofit Adams Avenue Business Association, which also funded the Roots Festival and funds the annual Adams Avenue Street Fair.
The change from the Roots Festival to Adams Avenue Unplugged was made to cut expenses and help make the festival more inclusive for businesses within a nearly two-mile long footprint of Adams Avenue. A free shuttle will be provided both days for festival attendees."
More information is available from the festival website or by phone: (619) 282-7329.