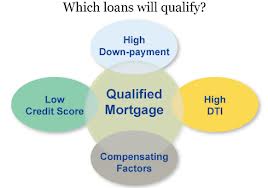 Qualified Mortgage and Ability to Repay
We've been talking about Qualified Mortgage and Ability To Repay for a year and it's finally here.  For this week's post I wanted to highlight the most important changes to conventional financing that were implemented starting last Friday, January 10th.   The changes I'm referring to are of course the new Qualified Mortgage & Ability To Repay guidelines that are now in place for all Fannie Mae & Freddie Mac owned loans.
 These are the big three:
1.  The maximum DTI (Debt to Income) ratio allowed will be 43%
2.  Points and fees cannot exceed 3%. (title and escrow fees are not part of the 3%)
3.  ARM loans must qualify at the higher of the fully indexed rate or note rate.
Most lenders will be following the Temporary QM rules until all the agencies figure out what they want to do, with the exception of FHA. HUD has already defined their QM rules. So when it comes to DTI restrictions it will be status quo for now.Even though much information has been published on this legislation, there are still common misunderstandings that cause fear. While the interpretation, preparation, and implementation of the many new features of this rule have been difficult we are ready to go and will continue to serve our clients' needs in a seamless manner.
858-863-0264