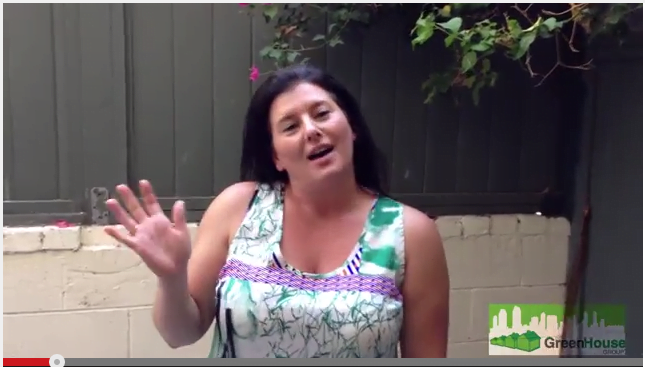 Jackie C. "I Couldn't Have (Bought My 1st Home) w/o The Amazing Amazing Team @ The GreenHouse Group!"
Jackie C.'s Testimonial & Celebration Day. Jackie got what she deserved. And it could happen to you next! Jackie's Celebration & Testimonial of The GreenHouse Group.
Volume 14

www..GreenMeansGrowcom

1(858) 863-0261

591 Camino De La Reina #103 San Diego, CA 92108
Jackie's Story of How She Got to "Home."
How Could This Have Happened?

Once upon a time there was a very strong young woman named Jackie who was ready to take the next step in her life.

Every day she wondered if now was the right time to hand in her tenant keys, fire her landlord and buy a home of her own.

One day, while working with another agent, she asked a mutual friend of The GHG who he recommended as the best real estate team in SD.

Because of that, we were introduced and came up with a brand new plan .. one that refocused her energy on finishing what she had started months ago in a system and a structure that could get it done.

Because of that, we got to work in one of the most intense real estate markets in history. She used her newfound focus and plan to get out there and make some offers. —>

CLICK ON IMAGE TO VIEW VIDEO

We saw many homes together, and wrote *strong offers* on the good ones, until finally, 4 months after sitting down with the Jackie, she got the keys on a great starter home in a great community for setting down roots of her own.

And that's what we do: we follow a proven, systematic 6-step process helping move great people with great purpose. We'd love to help you write your story of "home." – Jesse Ibañez & The GreenTeam
| | | |
| --- | --- | --- |
| Jackie with Eva Huddling Up & Coming Up w/ the Plan on Day 1 | …and then only 4 months later… | Celebration Day! Keys in hand – 1st day of the rest of her life! |
Contact Us To Start Your Own Story
Volume 14
www..GreenMeansGrowcom
1(858) 863-0261
591 Camino De La Reina #103 San Diego, CA 92108