Home Prices Continue to Climb
By Chris Isidore  @CNNMoney October 29, 2013: 9:28 AM ET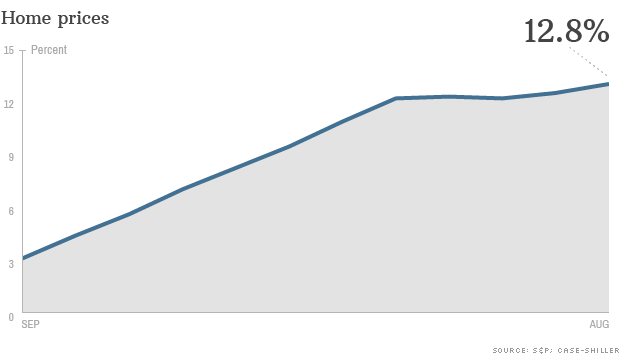 NEW YORK (CNNMoney)
Home prices posted the largest annual gain since housing bubble days in August, although the month-over-month gain slowed for the fourth straight month.
The closely watched S&P/Case-Shiller home price index increased 12.8% from a year earlier, the biggest 12-month gain since February 2006.  But with mortgage rates significantly higher in recent months, the pace of increases is slowing.  The 1.3% rise compared to July is only half the monthly increase posted in April when mortgage rates were near a record low.
Still, the recovery in the housing market continues to be strong, helped by a drop in foreclosures that were weighing on overall prices.  A drop in the unemployment rates is also helping to support the housing recovery.
858-863-0264