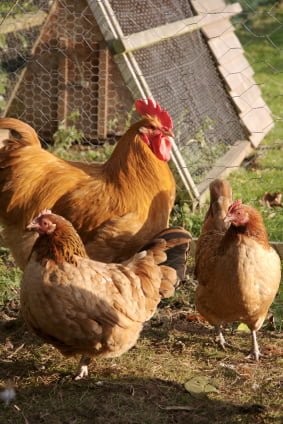 Urban Living – With Backyard Chickens
Here at The GreenHouse Group, we recently sold a home to a family in the heart of San Diego – literally a mile or two east of downtown. This cute, craftsman home is nestled snugly among the neighbors, as you would expect from any urban neighborhood. What came as a surprise was, during the middle of our key celebration (that moment when the magic happens, and we get to hand over the keys to our clients and the home becomes their own,) we were serenaded by the sounds of clucking and a couple big, beautiful red hens poked their faces through the fence, as  if to welcome to the new family next door. The daughter of our clients was delighted, as was her Mom. The moment took me back to when my family bought our home not far from there and my boys were ecstatic to see a little chicken dashing across the street and into a neighbors yard.  What a treat for kids growing up in the city to experience a farm animal or two living next door.
According to KPBS news,  in January 2012, "The San Diego City Council voted unanimously to allow chickens, bees and goats as backyard pets, making San Diego the latest of many cities nationwide to pass laws promoting urban agriculture.
Advocates asked the Council to allow the animals so residents could supply their own food – eggs from chickens, honey from bees, milk and cheese from goats.
The council also allowed two new types of businesses: produce stands and small neighborhood farms where owners can grow and sell produce on site.
Dan Joyce is the city planner who drafted the law changes.
"Access to local food is important to the city," he said. "It's important for stabilizing our food resources, it's important for cutting down on our carbon. There are so many benefits that can come from having local sources of food."
But if you're worried your neighborhood will be overrun by farm animals, you can take solace in a few rules.
On most properties only two beehives are allowed. Roosters are banned. Only miniature goats are allowed as long as they're de-horned. And you can have no more than two goats, but no fewer either. Goats are social creatures, and they can get a little destructive if they get too lonely.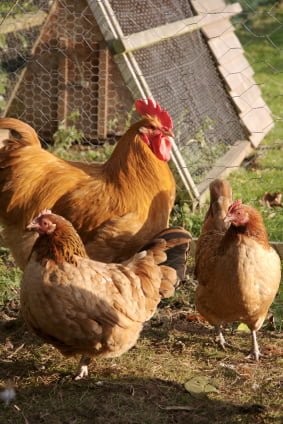 For exact details on this ordinance, check out this document provided by the City of San Diego titled, "KEEPING CHICKENS in the CITY OF SAN DIEGO." It gives details such as, home owners are allowed up to 5 chickens, provided the coop is in the back yard, 5 feet from side property lines, and 13 feet from the rear property line. It also answers FAQ's. So now that we know what the guidelines are for having your own chickens in the city, check out this website to see what people nationwide are doing to join the movement of urban chicken owners: BackYardChickenOwners.com
Until next time, Keep on Cluckin' – Carmen Harris