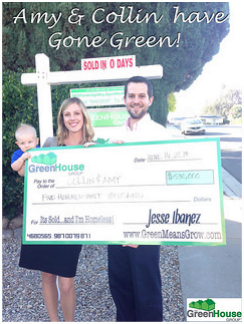 Amy & Collin "Thank You Jesse, Your Energy Really Got Us Through The Sale…" Seller Testimonial of Jesse Ibanez & The GreenHouse Group
Amy & Collin got what they deserved. And it could happen to you next! Amy & Collin's Celebration & Testimonial of The GreenHouse Group.
Volume 14

www..GreenMeansGrowcom

1(858) 863-0261

591 Camino De La Reina #103 San Diego, CA 92108
Amy & Collin's Story: "How We Sold Our Home For TOP DOLLAR In -3 Days!"
How Could This Have Happened?

Once upon a time there was a couple who after just inviting their first son into the family, knew that it was time to get on the move.

Every day they wondered which was more important: making it happen with a hot market or waiting until their little one was a little bit bigger.

One day, they decided to reach out to someone who could help, which landed them in an Initial Consultation w/ Jesse to see what was true & come up with the plan.

Because of that, we determined that it wasnt the right time, and instead, we waited for several months. Then I got the call that they were ready (and it was a good thing because their home had gone UP in value since!)

Because of that, we made some strategic changes to their already beautiful home, and got it ready for market. We also took some great photos, did our HD video walkthrough and drone video so we could get the word out to the neighborhood, too. —>

CLICK ON IMAGE TO VIEW VIDEO

Low and behold, a long time resident saw the home, called her agent, made a private viewing early, loved it & wrote a full price offer … all before the home had even hit the market!

Until finally, Amy and Collin were able to close escrow on this home and cash in while moving out. As serendipity would figure into this story, Amy and Collin got a job offer they couldnt refuse back east and because their home was sold – they could take it! Now, they are starting their new lives in a neighborhood and home that they love and that fits their family on the grow.

And that's what we do: we follow a proven, systematic 6-step process helping move great people with great purpose. We'd love to help you write your story of a Top Dollar sale so you can cash in while moving out. – Jesse Ibañez & The GreenTeam
Contact Us To Start Your Own TOP DOLLAR Sale Story
Volume 14
www..GreenMeansGrowcom
1(858) 863-0261
591 Camino De La Reina #103 San Diego, CA 92108