Two For Tuesday: First Time Buyers & Amazingly Low Interest Rates
Nearly half of home sales right now are being made by first time purchasers.  To no surprise this is all propelled by the first time home buyer tax credit.  According to the National Association of Realtors (NAR), 47% of all Americans who purchased homes this year have not owned a home in the previous 3 years.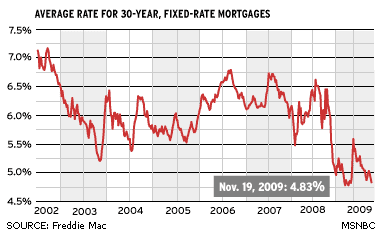 The tax credit boosted markets by giving first time home buyers a credit of $8,000 that they could deduct from their income taxes.  The credit, which was set to expire Nov 30, 2009 is now extended until April, 2010.
NAR forecasts that existing home sales will have increased by 2% in 2009, from previous year 2008, totaling over 5 million.  Predictions for 2010: 5.69 million.
In conjunction with first time buyers leading the market, rates on fixed mortgages are still staying below the 5% mark. 
Average rate for a 30 year fixed mortgage fell to 4.83%, down from 4.91% last week. 

Average rate for a 15 year fixed mortgage fell to 4.35%, down from 4.36% last week.
Last year at this time, 30 year mortgages averaged 6.04%.  Rates remain attractive for people looking to buy a home or refinance their existing mortgage.  If you, or anyone you know is considering taking advantage of the current housing market and/or this historically low interest rate environment, contact me Christine Hatchikian at 858-863-0260, Christine@GreenMeansGrow.com