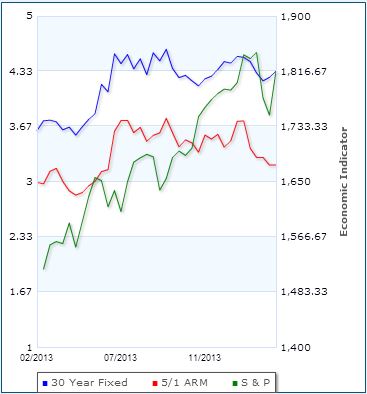 Mortgage Interest Rate Prediction
As a Mortgage Planner my clients often ask me for my mortgage interest rate prediction.  The question really has two parts.  One is easy, and the other not so much.
Let's start with the easy one – Long Term Interest Rate Prediction.  This one doesn't take a degree in Economics to figure out.  While we had a bit of a rate bump earlier this year, rates are still very low.  In fact, historically speaking they are still nearly unbelievable.  So, when you pan back to make a long term prediction it's not hard to imagine that rates really only have one direction to go – UP.  Here's a chart I got from bankrate.com.  You can clearly see the direction of the S&P compared to the 30yr Fixed and 5yr Adjustable mortgages.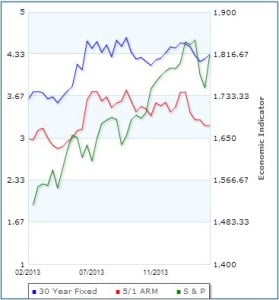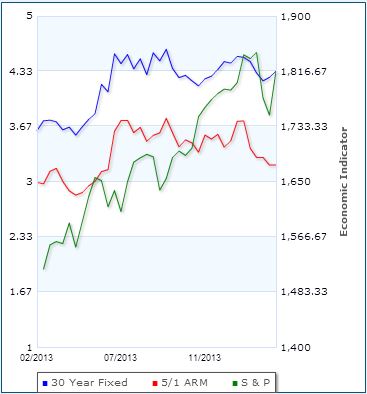 However, maybe more relevant to those getting loans right now is the short term trend.  How do you predict which way rates are going now?  That's a very tough question and there are a ton of smart people and a lot of money spent every day to answer this question.  Of course, as with most predictions you'll get about a coin toss when studied on average.  So, rather than answer a question like "Which way are rates going this week" I prefer to ask a question – "What's it mean to you?"   In other words, does the rate that's available right now serve your purpose?  If refinancing, do the rates currently available save you money, or make sense to secure long term.  If buying, can you afford the home you want with the rates that are here now?   If the answer to either of these questions is Yes, then you can feel comfortable locking it in.
The bottom line is that there is no easy formula for predicting rates in the short term.  The key is to get a good plan & act on it when the time is right for you.  Control what you can and let go of the rest.  To see if today's rates are right for your financial plan click here to send me an email and discuss it.
Jeremy Beck | Mortgage Planner | Not Rate Predictor 
858-395-1114