Money Monday: Your Move Fence Sitters
I remember talking to my Dad about the first home he and my Mom bought and financed back in the 1980s.  There was only one loan available, a thirty year fixed, and the interest rates were double digits.  When I got into this loan business as my profession in 2003 most of the country was three to four years into a housing boom that saw record appreciation returns.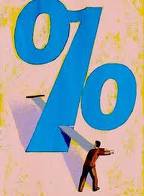 There was an irrational buying panic for any home on the market for sale.  What drove that boom was how cheap money was to borrow.  We set all-time records when rates dropped into the mid 5% range.  The problem with the feeding frenzy of that time was that due to loose lending guidelines many people got in way over their heads.  And we've all seen the ensuing market meltdown now for the past several years.  
Now that the banking industry has drastically tightened up lender guidelines there aren't as many buyers out there but for those that have been waiting for there chance it has never been better.  You can feel confident in the fact that your interests are regulated and looked out for with much greater scrutiny.  The other good news is that interests rates are shattering the previous low records from the record lows of 2003.  
The average interest rate for a 30-year mortgage dropped to a record low of 4.71 percent this week, pushed down by an aggressive government campaign to reduce borrowing costs.
The rate, published Thursday by Freddie Mac, is the lowest since the mortgage finance company began tracking the data in 1971. The previous record of 4.78 percent was set during the week ending April 30 and matched last week.
The Federal Reserve is pumping $1.25 trillion into mortgage-backed securities to try to bring down mortgage rates, but that money is set to run out next spring. The goal of the program is to make home buying more affordable and prop up the housing market.
Eventually interest rates have to go back up.  With home prices stabilizing this is the best opportunity buyers have had in 10 years.  What will be your next move.  
David Hughson
858-863-0264