Friday Funnies: Uncle Sam Wants You to Spend More of His Money!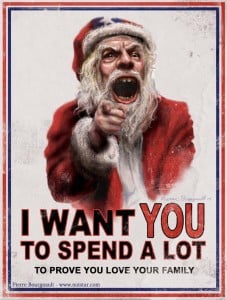 Uncle Sam just decided that he wants You to Spend More of His Money (which is ironic considering it is really our money)! But we are liking this one because for what seems like a first time in a long time, the foot soldiers out here on Main Street are actually receiving some love. The U.S. House of Representatives today voted 403 to 12 to extend and expand the home buyer tax credit. The bill passed the U.S. Senate late yesterday and now will go to President Obama for his signature, where it is expected to be signed this week.
The tax credit will be extended through April 30, 2010, with a 60-day extension if a binding contract is in place prior to the deadline. First-time home buyers will continue to receive a tax credit of up to…(click the read more under Uncle Sam for the details)
$8,000, while existing homeowners will receive a credit of up to $6,500. Existing homeowners will be eligible for the $6,500 if they have lived in their current residences for at least five years. The bill also will increase the qualifying income limits from $75,000 for single tax filers and $150,000 for joint filers to $125,000 and $225,000, respectively. The purchase price of the home is capped at $800,000.
Under additional provisions in the bill, taxpayers can claim the credit on purchases completed in 2010 on their 2009 income tax returns. The bill maintains the provision that home buyers do not have to repay the credit, provided the home remains their primary residence for 36 months after purchase, and waives this requirement for active duty military personnel who move due to a military order.
For weeks, the CALIFORNIA ASSOCIATION OF REALTORS (C.A.R and its members have urged Congress and the U.S. Senate to extend and expand this crucial piece of legislation.
Nationwide, more than 1.4 million first-time home buyers were given the opportunity to become homeowners as a result of the Federal Tax Credit for First-time Home Buyers. According to C.A.R. research, nearly 40 percent of first-time home buyers surveyed said they would not have purchased a home without the federal tax credit, and approximately 70 percent said the tax credit was "the most important" or a "very important" factor in their decision to buy a home.
Jesse Ibañez
REALTOR, CDPE