Don't Lag on Submitting Your CA Home Buyer Tax Credit Paperwork!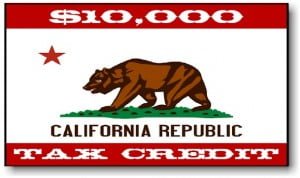 California First Time Home Buyers, don't lag on submitting your CA Home Buyer Tax Credit Paperwork!  Dave Yoshida, owner of Fortunate Fields a personal accounting firm in San Diego, CA says, "Here is the website with the info you need. http://www.ftb.ca.gov/individuals/new_home_credit.shtml"
"Time is of the absolute essence – the FTB has received more than 25,000 of the additional 28000 applications it will accept"  He goes on to say, "the window will close very soon, perhaps even today.  Once its closed, its closed.  The application must be faxed to the FTB within 14 days of closing, day 15 is too late.  Also, there is one fax number to send the form to and the form must be faxed.  So, it is apparently taking several tries for people to get this fax completed."
Thanks Dave, and to anyone out there who hasn't done this yet – get on it!  10g's is 10g's! 
On Your Team,
Jesse

PS – Dave was nice enough to leave the link to the form for you below.  And if you need help with your numbers this year, give Dave a call.  You can find him at www.FortunateFields.com

The form is described in the website – form 8549a – here it is