Digital Marketing Tips from Ekaterina Walter direct from SONY USA-The Power of Visual Storytelling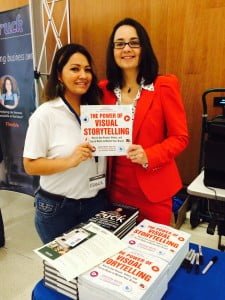 "Since its inception in 2005,  YouTube has revolutionized the way we interact with video content"-Ekaterina Walter & Jessica Gioglio
I had the pleasure of attending the Latino iConnect Digital Marketing Conference where endless information of how to market your company online flowed.
The following topics were covered:
Google+ Marketing for Business
How to Reach Online Hispanics
B2B Social Media Marketing
Facebook Marketing for Small Business
Content Marketing Strategy
The Power of Visual Storytelling
Many of the presentations provided great information on how to reach audiences and what to market to them.  Mainly, one topic struck a cord with me.  That topic was "The Power of Visual Storytelling" By Ekaterina Walter.  She spoke about telling stories through our blogs to inspire people to share what we are saying. I know for myself this is important because Its a confirmation that I am reaching my target audience if I get even 1 share.  There are many social media platforms out there including Facebook. Some tips for engaging on Facebook based of Ekaterina's book are as follows:
Don't Use Generic Marketing Photos on Facebook. Create photos specifically to generate a conversation.
Think how you can communicate visually-fans are more likely to comment on, like, and share photo.
Ask your fans to upload their own photos to give their perspective on how your products fit into their lives.
Create campaigns specifically for Facebook that fans can join in with.
Both photos and video work really well on Facebook and generate interaction with your fans.
Get creative with your header photo, and chose something eye-catching and inspiring.  Change it every now and then to keep it fresh.
Integrate your regular marketing intro Facebook, but let Facebook take it further. For example, show behind the scenes shots, or let fans decide what happens next.
Global brands can make use of regional pages to target information based on locality to fans in different countries.  Consider cultural differences when you design images or videos for a particular region.
Don't worry too much about using professional photographs-a photo taken on a smartphone by a fan can sometimes tell a better story than a professional marketing shoot.
Offer creative visual contests to engage your fans in a sustainable way.
These are all some great tips that I picked up listening to Ekaterina speak.  If you wan information on any of the other topics mentioned above, shoot me an email at Bianca@GreenMeansGrow.com I will be more than happy to send you some information!
Special shout out to Ekaterina for the invaluable information provided!  "The Power of Visual Storyteling" A must-read book while running a business. –Bianca Martinez