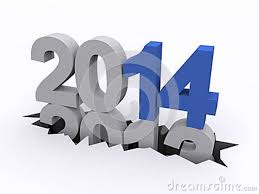 Big Changes Coming in 2014
It appears that many of the lending predictions and forecasts we've read about over the last 3 years finally took root in the second half of 2013. The big one of course was rates rising.  I remember reading that rates were going up in 2010, 2011, and 2012 and they only crept lower and finally bottomed out in the spring of this year.  When we all left for the Memorial Day weekend rates were at the tale end of what might now be known as the lowest period in history.  While rates had to go up at some point it was still startling to see how quickly they could rise. By July of this year rates were more than a full point higher and the buzy summer buying season was off to a roaring halt. Rates settled back down a little in Ocotber but have since started to creep up a little.
So what is in store for 2014?  Here are a few things to look out for as we begin the new year.
We will see alternative lending options to the Qualified Mortgage guidelines that are rolling out at the beginning of the year. But these options won't show up until spring and will be more expensive as banks will be assuming more risk. This in turn will mean more expensive loans for consumers in the form of higher interest rates.

Fannie Mae & Freddie Mac will eliminate the .25 Adverse Market price hit for most housing markets but will implement a .10 price increase for all housing markets making mortgages more expensive.

HARP 3.0 will be released allowing for homeowners without GSE backed loans to refinance.  That means all those folks with sub prime or ARM loans could be back in the refinance conversation.

The return of HELOCs will offer an alternative to the dreaded Mortgage Insurance.

Your realtor's analytical and negotiating skills will be that much more in demand as lower inventory levels will mean a very competitive market for the foreseeable future.  For example, check out these hot picks from Carmen.
Even with the rate increase we've seen this year rates are still in the mid 4% range which means there is plenty of room for more increases. In my opinion we will see rates above 5% for all loans before the end of 2014.
858-863-0264