3 Major Differences Between Purchasing a House and a Condo!
Looking to purchase a house or a condo? Well I have three "Must Knows" before you write that offer.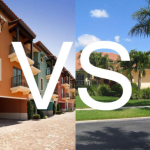 There are a three major differences when it comes to a pre-approval for a Single Family Residence (a House) and a condo. And if you aren't aware of these differences and how they might have an effect on your pre approval, you could be writing an offer based off some bad information.
The first major difference is accounting for the monthly HOA payment, and anticipating how that is going to affect you max purchase power. An HOA payment needs to be factored in to your monthly expense ratios. As a general rule of thumb, every $50 / month in HOAs you are looking at a decrease in purchase price by about 10k. So that would mean, on a Condo with a $250 per month HOA, your overall purchase price would be lowered by about 50K! And that's only one of the three major things to be on the lookout for!
So if you're out there writing offers on both houses and Condos, and want to know the other 2 major things to look out for, e-mail me at Scott@GreenMeansGrow.com, and I'll let you know what else to look out for.