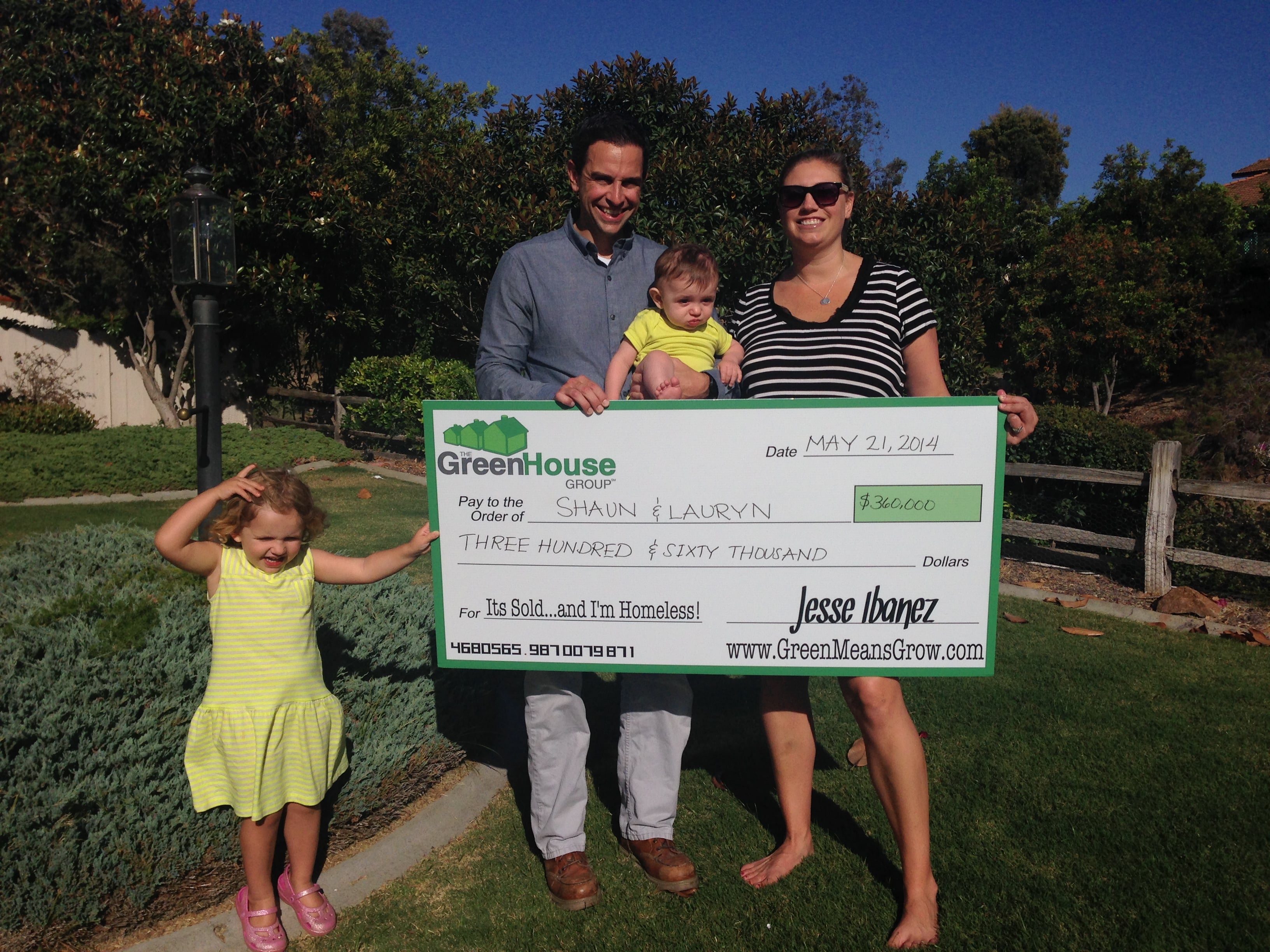 Lil' Jamie Says, "I LOVE THIS HO– USE!!" Shaun & Lauryn's Testimonial Of Buying & Selling
Shaun & Lauryn got what they deserved. And it could happen to you next! Shaun & Lauryn's Testimonial of The GreenHouse Group.
Volume 14

www..GreenMeansGrowcom

1(858) 863-0261

591 Camino De La Reina #103 San Diego, CA 92108
Shaun & Lauryn's Story: "How We Got A Smokin' Deal When We Bought, Then How We Sold Our Home For TOP DOLLAR In 72 Hrs!"
How Could This Have Happened?

Once upon a time there was a couple who was getting ready to welcome their first daughter into the world.

Every day they considered their options: "Was this the right time to try to buy a larger, more spacious home" they thought?

One day, they decided to reach out to someone who could help, which landed them in an Initial Consultation w/ Jesse to see what was true & come up with the plan.

Because of that, we were able to find them a smokin' deal in a huge family home in the right community for them to set down roots, and got them that home (despite it being a crazy short sale during a intensely competitive market)!

Because of that, we had to make some more strategic choices about the old condo, and were able to strategically put that home on the market (in a slower time) and sell it for TOP DOLLAR, Full Price, ALL CASH, in 72 hours! —>

CLICK ON IMAGE TO VIEW VIDEO

Until finally, Shaun & Lauryn were able to begin this new exciting chapter of their lives in the perfect home at the perfect price for them, without the burden of the other home to worry about, and a nice check to show for it. Now, they are starting their new lives in a neighborhood and home that they love and that fits their family on the grow.

And that's what we do: we follow a proven, systematic 6-step process helping move great people with great purpose. We'd love to help you write your story of a Perfect New Home or a Top Dollar sale so you can cash in while moving out. – Jesse Ibañez & The GreenTeam
Celebration Day with the keys to

their new home!

Celebration Day after selling their

La Jolla condo!
Contact Us To Start Your Own TOP DOLLAR Sale Story
Volume 14
www..GreenMeansGrowcom
1(858) 863-0261
591 Camino De La Reina #103 San Diego, CA 92108