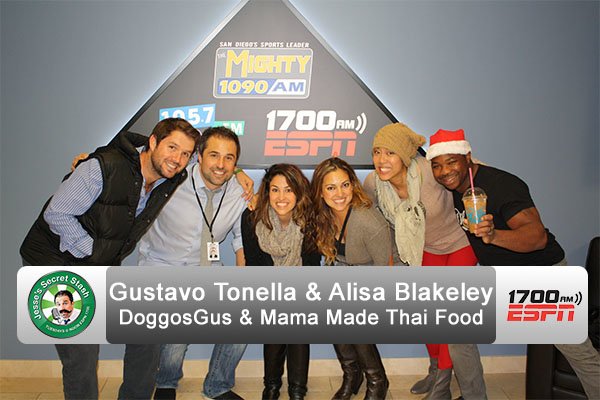 Jesse's Secret Stash: Episode 11 | Gustavo Tonella on DoggosGus & Alisa Blakeley on Mama Made Thai Food
Jesse's Secret Stash: Episode 11
Gustavo Tonella on DoggosGus & Alisa Blakeley on Mama Made Thai Food
If you like Farmers Markets your gonna want to check out this amazing foodie episode of Jesse's Secret Stash!
We brought on Gustavo Tonella, owner of DoogosGus, to talk about his version of the famous TJ Dog and why his is the best one you'll every have! He talks about his roots from Mexicali and how he has been able to innovate the hot dog world. He uses the best gourmet ingredients along with the best fresh toppings such as guacamole, grilled onions, chorizo, and much more!
If you have an obsession with thai food like I do then make sure to listen to what Alisa Blakeley, owner of Mama Made Thai Food, has to say about her amazing thai food. She makes that food that makes you feel at home just like your mamma was making it. She uses the freshest ingredients along with her mamas secret recipes to make you the best thai food ever. And if you want catering with a personal chef vibe to it, make sure to call Alisa. She wont bring over pre-made food in trays, she will come to you and cook in front of you so you can learn and have fun.