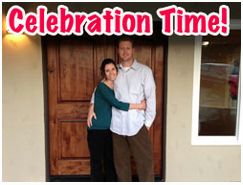 Jeremy & Jennifer's Story: "I was SO HAPPY to be able to do it with you guys!"
Jeremy & Jenn got what they deserved. And it could happen to you next!
Volume 14

www..GreenMeansGrowcom

1(858) 863-0261

591 Camino De La Reina #103 San Diego, CA 92108
Jeremy & Jen's Story of "Home"
How Could This Have Happened?

Once upon a time there was a couple who, blessed with a family on the grow, quickly out grew their beautiful 1st home overlooking the Bay in coveted Mission Hills. Every day they wondered if the timing was ever going to be right to let go of their life on the hill that worked perfect when it was just them, but was now bursting at the seams. One day, they decided to test their options and Jeremy was able set up a financial plan that allowed them to buy a new home within their budget. Because of that, they came in talked with me about what kind of home they could get with that number. Because of that, they went on a 5 home Big Bad Kickoff Tour looking at the best homes on the market which, —>

CLICK ON IMAGE TO VIEW VIDEO

…led into several open house tours, and eventually an offer on one which happened to be the best one of them all. Until finally, only 1.5 months after sitting down with them, they got the keys on a newly remodeled, larger, more spacious home on a huge lot for the kids with room to grow down the line.

And that's what we do: we help move people with purpose, by helping write their personal stories of "home." – Jesse Ibañez
| | | |
| --- | --- | --- |
| Huddling Up & Coming Up w/ the Plan on Day 1. | Big day for the kids! | Celebration Day! Keys in hand – 1st day of the rest of their lives! |
Contact Us To Start Your Own Story
Volume 12
www..GreenMeansGrowcom
1(858) 863-0261
591 Camino De La Reina #103 San Diego, CA 92108