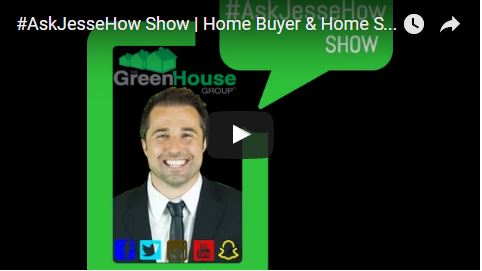 *LIVE* FAQ's Episodes For Home Buyers & Home Sellers w/ Jesse Ibanez.
Hello San Diego, CA home buyers & home sellers!
Are you thinking about buying or selling in the next 12 months?  Chances are, you have some questions.  You can either find your question's answer in a previous episode we've already shot before – or – you can ask me a brand new one by hitting us up on Twitter / FaceBook / YouTube and use the hash tag #AskJesseHow along with your question and we'll get it answered on our next show.  Thanks for hanging out and please, if you find our contributions helpful, perhaps you'll consider The GreenHouse Group to help you on your next home sale or home purchase!
On Your Team,
Jesse
Here's The Past Episodes:
Episode 8: What Do You Do Differently When Considering Buying Foreclosures?  What Happens When The Seller Or Tenant Won't Leave … "Squatters?"
Episode 7: How Do Home Buyers Find "The Silent Market?" What Does 400k Get Me In San Diego Nowadays?
Episode 6: Cash Buyers?!  How Much Can You Expect As An ALL CASH Discount? Are Real Estate Agents Becoming Obsolete?
Episode 5: How Do I Sell Then Buy? How Will My Home Be Marketed? How Do I Negotiate My First Purchase?
Episode 4: How Long Will It Take To Buy A House? How Many Clients Can You Handle At Once?
Episode 3: Home Inspections, Closing Costs & Fed Interest Rates?
Episode 2: How To Utilize The Contract To Affect Timing? How Does Your Agent Communicate? How Do I Price My Home?
Episode 1: Know Your Non-Negotiables, Mortgage Plan vs. Qual, 3 Piles of Money, Communication.