[spatialmatch_map id=16 width=1000 height=700]
So You Want To Live In "The Heart Of It All?"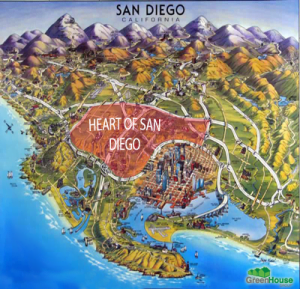 I don't blame you.  So do I, and I have called this area home since I moved here for college in 1995.  My wife has lived here in the heart her whole life.  These experiences of living here for our entire adult lives, of not only canvassing these neighborhoods 6 days a week while helping clients, but also frequenting the restaurants, schools, parks, beaches, arts, festivals…all the things which weave the quilt of living in San Diego's richest, and most popular communities.
These are also the areas we serve most often, whereby 80% of our annual transactions take place.  This experiential capital affords us the unique perspective of speaking from experience when consulting with our clients.  Its imperative that the role your agent plays for you is not just one of a transactional fiduciary.  It must be one of lifestyle experience so that we can meet you where you are at, wherever it is that we are finding you … and help you get from where it is you are to where it is that you want to be based on what is truly important to you.
Let us help you buy a home that's in the heart of it all and we can start by looking for homes and lifestyle design in that area.  Ive already set up the search tool above with some communities that will help get you started.
Enter the city, neighborhood, or Zip Code of interest below to populate a thorough LifeStyle Search report